We've written several times on the dominance of major industry players when it comes to travel searches and bookings. We've also highlighted the potential for search engines such as Google to become increasingly influential throughout that process. Last week Google launched updates that look like they will set those things in motion.
Google is one of those companies that's so dominant it feels strange to label its current business model as disruptive. But when it comes to travel, that description is apt. The search giant has slowly but surely been growing into the industry. It's clear that Google wants to be much more than a platform that enables you to find places to explore and book travel options. It wants to be a proper part of that process, an online travel agent in your pocket.
Part of that step into the travel agency business is a shift in business model. Google makes the vast majority of its revenue through ad sales. Companies pay to get listed on Google with regards to relevant search, and Google charges a small fee each time they get found. There are plenty of businesses out there who bypass organic SEO and are happy to pay for easy traffic.
In terms of the travel industry, Google already makes plenty of money from travel-related companies, whether that's ride-sharing platforms, hotels or online travel agencies. All are fighting for traffic and desperate to be at the top of search results. That's not going to change anytime soon.
However, slowly but surely, Google has been becoming a travel agency of sorts. Ad fees pale in comparison to referral fees. Ever used a platform like Skyscanner, Expedia or Kayak? These companies aggregate search results for your travel query and point you in the direction of the cheapest or best flight/hotel/trip. Once they've sent you on your way and you complete a purchase with the operator in question, they take a cut. The relationship differs from platform to platform, but that's roughly how it works.
So what does this mean for Google's travel services?
Google's shift towards acting as a referral engine means that instead of just collecting revenue from, for example, a hotel ad that appears in your search results, it will now focus on getting people to book through its travel tools.
Google Flights is already making headway with this strategy. According to Quartz, "Google is at the heels of the industry leader Kayak for airline referral volume".
In a blog post last week, Eric Zimmerman, Google's director of Travel Product Management, went into more detail on the updates to the search engine's travel tools. In particular, they have been revamped to account for the fact that more and more people are using mobile devices to research and book.
As he wrote, "Planning a trip involves lots of searching for flights, hotels, things to do, itineraries and more. The process is often cumbersome because we have to use multiple tools to gather everything we need—especially on a mobile phone.
We're evolving the way our hotel search works on smartphones to help users explore options and make decisions on their smallest screens. The new hotel search experience includes better price filtering, easier-to-find amenity information and the ability to book right from Google."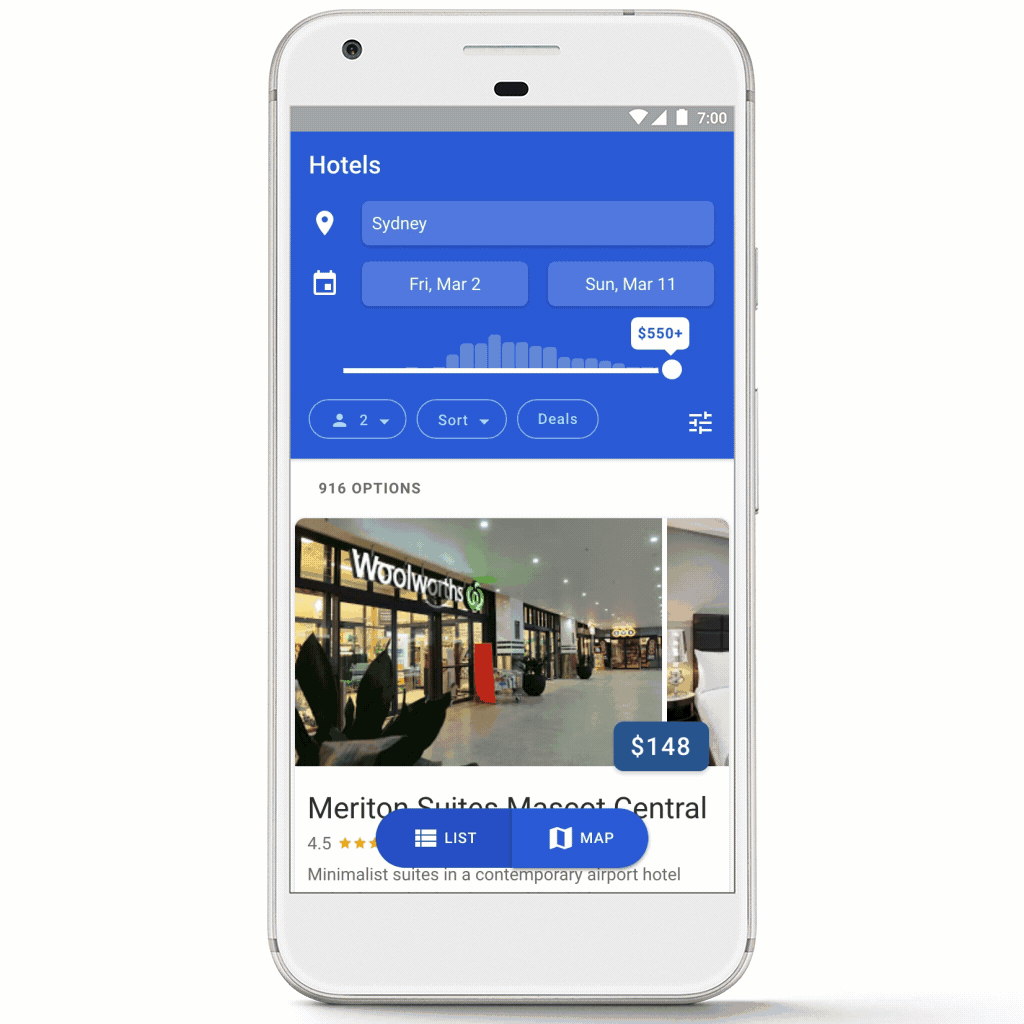 Google's New Travel Features
Google is trialling a few new travel features to make mobile search easier than ever. Users searching for a flight in Google Flights will soon be able to click right in to "Hotels" at the top of the page. You can then click over to check hotel availability and prices in your destination city for the dates you've already selected.
It's Google's next step towards becoming a one stop travel shop.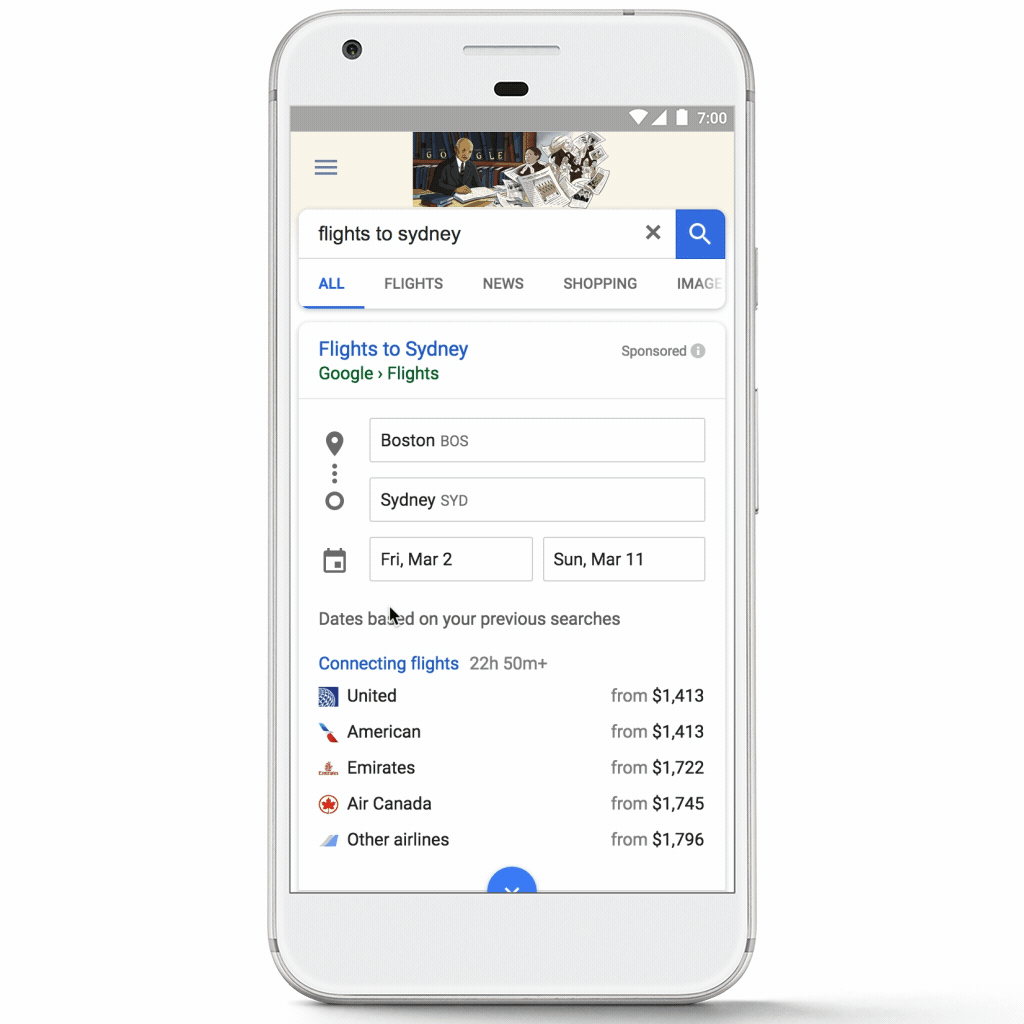 The post continues…
"And it works the same way if you start by searching for a hotel. You can easily click to the "Flights" tab to check prices and fare options, and easily book your flight when you're ready.
The same options appear if you want to learn about a specific place, or when searching for things to do there. Let's say you're checking out a trip to Sydney. You can now easily click to browse available hotels or flights while you're exploring the destination."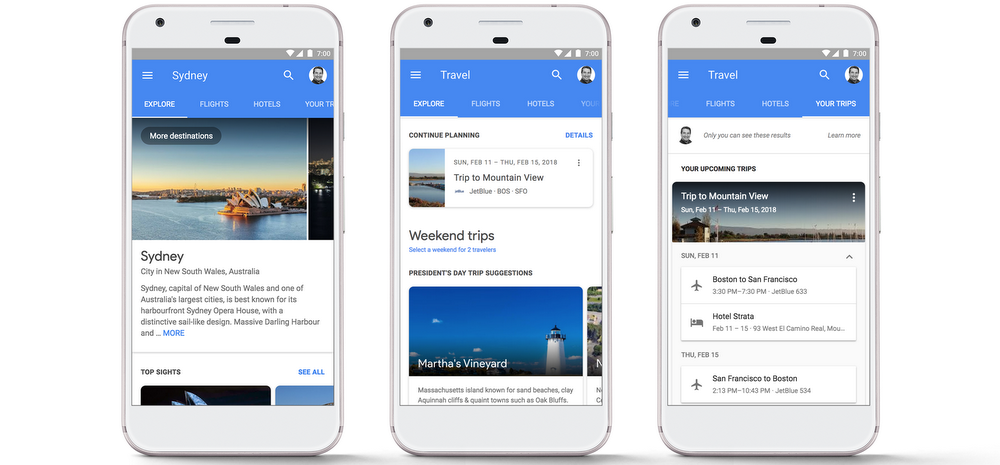 "Clicking on "More Destinations" in the top left will drop you into a new experience that lets you explore other destinations, weekend getaways and trips you might be interested in. We've also included a feature called Your Trips that helps you see, at a glance, all your upcoming and past travel reservations from Gmail. These results are private, and only you can see this information. You can email your trip reservations to friends or family right from Your Trips, and also make edits and access them directly offline with the Google Trips app (Android, iOS) when you're traveling."
The benefit, according to Google, is an easier research and booking process that connects you to travel companies who help you finalise your plans.
Jason Soss, co-founder of Last Minute Travel, said about the changes, "We're always looking for ways to help travelers find the best hotel room. With Google's new navigation, more people can use Last Minute Travel to book their adventures."
Final Thoughts: Nothing can beat localised, community-driven platforms
Google has an obvious advantage when it comes to the online travel market. This is a company that already has millions of people around the world using its online tools and services, from Gmail to Docs to Google Drive.
Integrating those services into our travel search and bookings, while further developing a set of travel tools – as has been done with the Google Trips app – represents a challenge to established operators in the space.
The switch to the referral market may be subtle and gradual, but there's no doubt that this is an ambitious play by Google. The ultimate aim is clearly to be the place you go to for everything: research, planning and booking. Flights, accommodation, your itinerary. Everything, all through Google, all in one place.
But one thing any behemoth will struggle to do is appeal to travellers at a personal level. Any huge platform will experience drawbacks that come with targeting the mass market. These include a lack of localisation, and the challenge of providing bespoke trips and decent customer service.
We firmly believe that travellers are pushing away from the convenience of one-stop shops and seeking more authentic opportunities.
That's why Travelshift software has been designed from the bottom up to be a community-driven platform with content from users, travellers, locals and operators. The result is a travel platform that's scalable, fast-growing and relentlessly perpetuating success.
If you'd like to find out more, get in touch with us today.